Nestled within the prestigious city of Marbella, Spain, lies the exclusive neighbourhood of Sierra Blanca. This luxurious area is renowned for its breathtaking scenery, opulent properties, and an unparalleled quality of life. In this blog post, we will take you on a journey to explore the wonders and highlight the enticing opportunity of owning a villa in this sought-after area.
History
Sierra Blanca's history can be traced back to ancient times when the region was inhabited by various civilizations, including the Phoenicians and Romans. However, it was during the 20th century that Marbella began to transform into a haven for luxury living. The area attracted affluent individuals from around the world seeking a Mediterranean retreat, and its reputation as a high-end residential destination began to flourish.
Area
Situated at the foothills of the majestic La Concha mountain, Sierra Blanca offers residents an idyllic blend of serenity and sophistication. The region's name, "Sierra Blanca," translates to "White Mountain Range," which perfectly describes the picturesque landscape. Boasting panoramic views of the sparkling Mediterranean Sea, Gibraltar, and the African coastline, this area provides an enchanting setting for luxury living.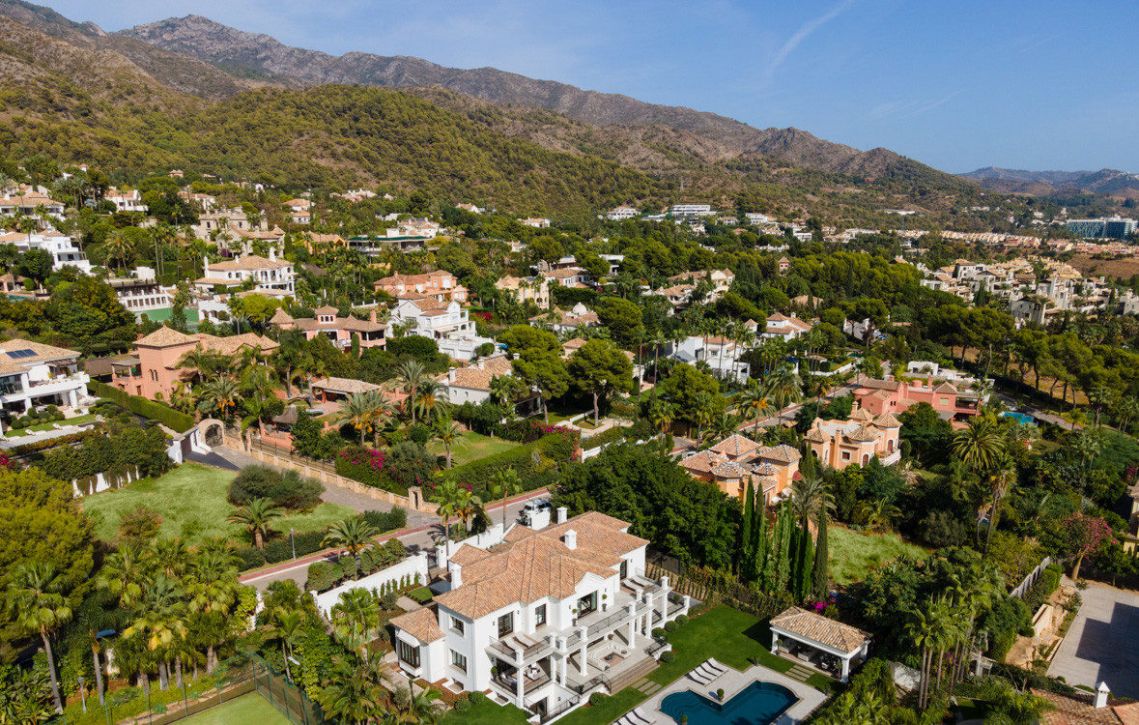 Its exclusivity is further enhanced by its gated community, offering residents a sense of security and privacy. The entrance to the neighbourhood is guarded 24/7, ensuring that only authorised individuals can access the area. As you drive through the immaculately manicured streets, it becomes evident that Sierra Blanca is designed to cater to the most discerning residents seeking an unparalleled living experience.
The surrounding natural beauty of the Sierra de las Nieves National Park and nearby beaches adds to the allure of this exclusive area.  Residents can enjoy a variety of outdoor activities, from hiking and nature walks amidst lush greenery to basking in the sun on the golden sands of Marbella's stunning beaches.
The allure of Sierra Blanca lies in its exclusive villas, each a masterpiece of architectural grandeur and refined elegance. These opulent residences exude a sense of timeless charm and are designed to cater to the most discerning tastes. With spacious layouts, high-end amenities, private gardens, and infinity pools, Sierra Blanca villas epitomize the ultimate Mediterranean lifestyle.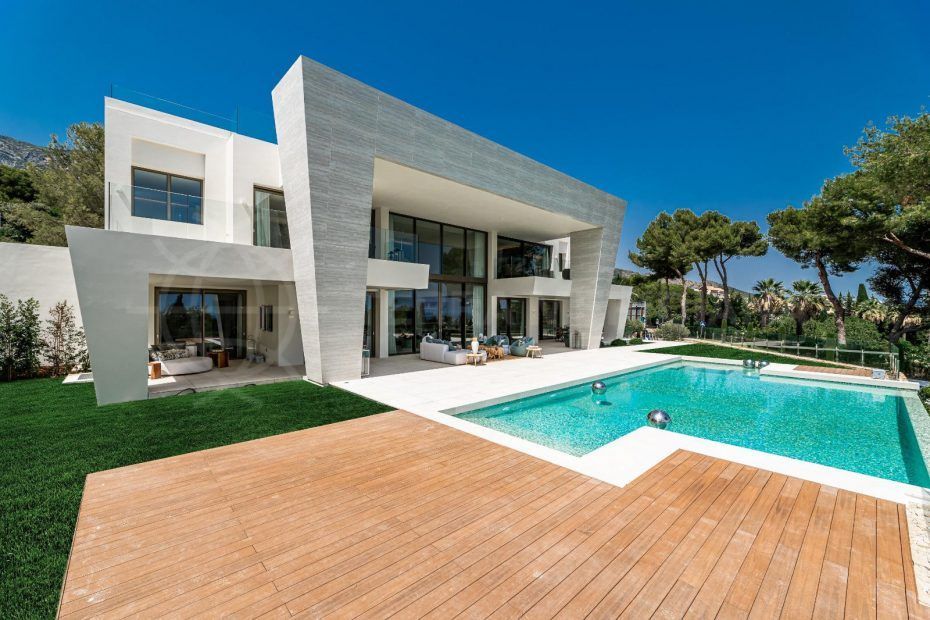 The real estate market in Sierra Blanca is highly competitive due to its prestigious reputation and prime location. Demand for luxury properties in this neighbourhood remains strong, attracting affluent buyers from all corners of the globe. Owning a villa there is not just an investment in real estate; it is an investment in a lifestyle of sophistication, leisure, and natural splendor.
Over the years, property values in Sierra Blanca have consistently appreciated, making it an attractive investment opportunity. Many buyers see Sierra Blanca as a safe haven for their wealth, offering stability and long-term growth potential. Additionally, the exclusive nature of the neighbourhood ensures that properties retain their value and desirability over time.
Proximity
While Sierra Blanca offers tranquility and seclusion, it is just a stone's throw away from Marbella's vibrant city center. Residents can indulge in a plethora of gourmet restaurants, high-end boutiques, and cultural attractions. The renowned Golden Mile, a stretch of luxury resorts, hotels, and exclusive villas, is within easy reach, offering a perfect blend of relaxation and entertainment.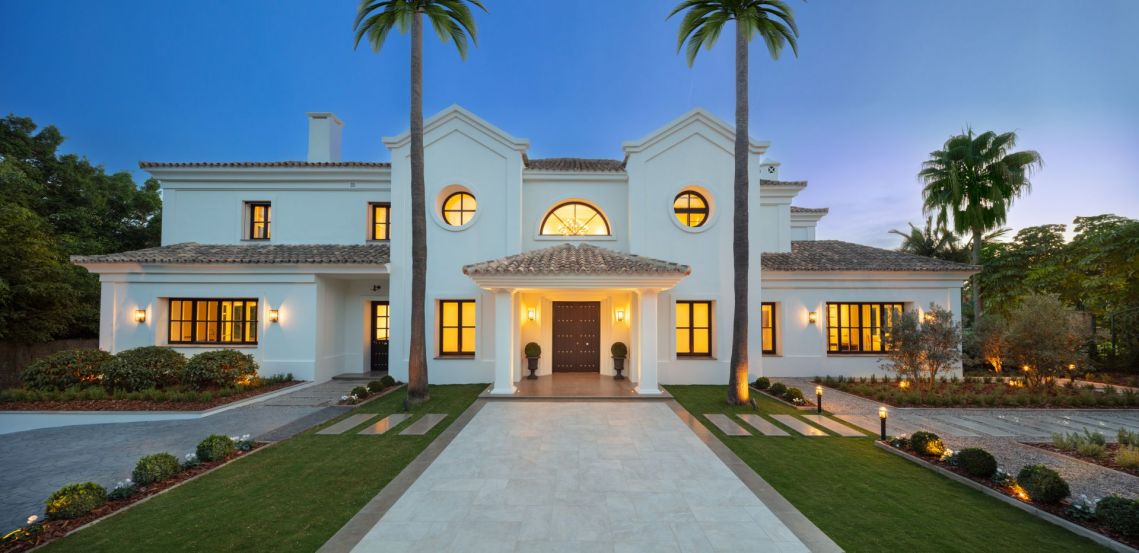 One of the jewels of Marbella, Puerto Banús, is also conveniently located near Sierra Blanca. This glamorous marina attracts celebrities and jet-setters from around the world and is a hub for luxury shopping, fine dining, and vibrant nightlife. Living in Sierra Blanca provides the best of both worlds – a serene retreat with easy access to the bustling heart of Marbella's entertainment and cultural scene.
Moreover, Sierra Blanca's strategic location allows for convenient access to major transportation hubs, including the Malaga-Costa del Sol Airport. This ensures that residents can travel internationally with ease, whether for business or pleasure, making Sierra Blanca a truly accessible paradise.
Conclusion
In conclusion this luxury area epitomizes luxury living on the Costa del Sol. Its rich history, breathtaking surroundings, and opulent properties make it a highly sought-after neighborhood for discerning homeowners. Whether you seek an idyllic retreat or a solid investment, Sierra Blanca's allure is undeniable.
Embrace the exclusivity and beauty, and secure your piece of paradise in this prestigious enclave of Marbella. Owning a villa in Sierra Blanca is not just a financial investment; it is an investment in a lifestyle of sophistication, leisure, and natural splendor.
Imagine waking up to awe-inspiring views of the Mediterranean, spending leisurely afternoons in your private garden, and entertaining guests in the lap of luxury. It offers all of this and more, enveloping you in an ambiance of refined elegance and tranquility.
As the real estate market in Marbella continues to thrive, now is the perfect time to seize the opportunity and become a part of this exclusive community. Experience the epitome of luxury living, where every day feels like a vacation, and the Mediterranean lifestyle becomes a cherished reality.
Are you ready to make your dream of owning a villa in Sierra Blanca a reality? Let the allure of this enchanting neighbourhood captivate you, and open the door to a life of luxury and sophistication. Embrace the privileged lifestyle that it has to offer, and embark on a journey of indulgence and elegance in Marbella's most prestigious enclave.
Article by Louis Wittner
Share this article